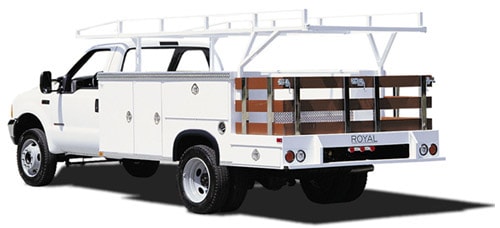 Combo Service Body (40-VDO-C144)
Pictured above is a Standard 144" Stakebed Combo Body with the Standard Over-Cab Rack with a Swing-Away Rear Cross Bar. Combo Service Body measures 12' long. Standard features include removable bed separators, open top lids covered with aluminum diamond plate, wood gates at rear and tapered leg heavy duty ladder rack.
For trucks with dual rear wheels - 84" Cab to Axle.
Royal Standard Features List:
Three (3) Year Limited Warranty
Heavy Duty Over Cab Rack
Spring-Loaded Door Checks
Aluminum Diamond Plate on Top Lids
Triangular Door Latching System
Zinc-Plated Door Lock Rods
Rain Gutter Above All Doors
Dual Rotary Latches For Top Lids
Rivet Free Stainless Steel Door Pockets
Lock in Place Adjustable Shelving
Undergate Supported Tailgate
Fully Gasketed Open Top Compartments
Polished Aluminum Front Gravel Guards
Double Paneled Galvanized Steel Dividers
New and Improved Weather Sealing on Side Doors
Vertical or Horizontal Layout
Choice of 33" or 40" High Body
Bed Area is a Full 49" Wide
Heavy Duty Dock Bumper
Hard Wood Rear Gates With Stainless Steel Posts
Chrome Wheel Wall Edging
Royal Quality
Make an Inquiry
Hours
Monday

8:00 am - 6:00 pm

Tuesday

8:00 am - 6:00 pm

Wednesday

8:00 am - 6:00 pm

Thursday

8:00 am - 6:00 pm

Friday

8:00 am - 6:00 pm

Saturday

8:00 am - 3:00 pm

Sunday

Closed